Hagopian's Rewards Program
Clean up Now and Cash in Later!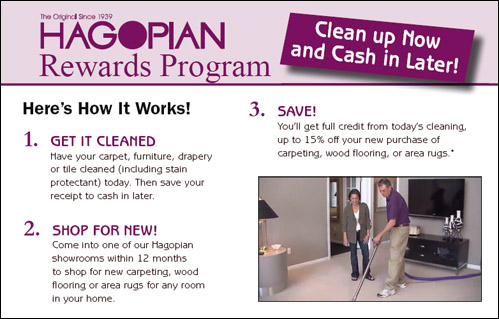 Rewards Program FAQ
If I have my area rugs cleaned in home, do they count towards the credit in the Rewards Program (RP)?
We strongly recommend that you have your rugs cleaned in our state of the art Rug Care Spa. It is specifically designed to clean Oriental and Area Rugs. If we do end up cleaning an area rug in your home we will apply that service to The Cash Back/Reward Program.
How long do I have to use my credit from today's cleaning?
The credit is good for 12 months from the date of your cleaning. Your Cleaning Specialist will give you a card filled in with the expiration date.
I had my carpet cleaned twice within the 12 month period. Can I double-up and use both receipts?
Yes you can use multiple cleaning receipts. We will take the total within a 12 month period, up to 15% off of a new purchase.
Can I transfer my credit to a family member or friend? I don't plan to use the Rewards Program myself.
The Rewards/Program is non-transferrable.
I lost my receipt and/or Rewards Card, can I still participate in the Rewards Program?
Yes. Having your Rewards Card will speed things up when you come into the store, but if you have lost either the card or your receipt we will be able to pull up your records and give you your discount.
Can I use my credit from today's cleaning to purchase more cleaning services within 12 months?
The Rewards Program was created to give Hagopian customers who are familiar with our in home cleaning service and our famous purple trucks an incentive to purchase new rugs and carpet from us when they need to replace their existing flooring. Sorry, it can not be used for future cleaning.
I won't use my entire credit with my new purchase. Can I leave the balance on account for the future?
You must use your credit with one transaction. We will not keep any balance on account.
Can I shop at any Hagopian location?
Yes. You can shop at Birmingham, Novi and the Oak Park Outlet & our newest location in Utica.
Can I purchase online when using my credit?
The Rewards Program is an in store program only, however if you see something you like on our website just let us know and we can complete the transaction in one of our stores.
Hagopian has a sale going on. Can I use my discount from the Rewards Program off the sale price?
Yes! You can take advantage of our sale and clearance prices and still use your Rewards credit.
I have a Hagopian coupon that I cut out/printed. Can I use the coupon AND the discount from the Reward Program?
Sorry, no coupons can be used with the program.
I have a Hagopian gift certificate that I purchased, can I use the gift certificate AND the discount from the Rewards Program towards my new purchase?
Yes.
Can I purchase more than one item, such and carpeting and an area rug, with the Rewards Program?
Yes. You can purchase multiple items as long as they are part of one transaction.
I am having my office cleaned and the cleaning technician did not leave a Rewards Card, why?
The rewards program is for residential use only.