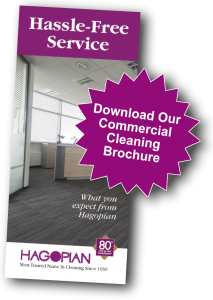 Clients form fast impressions - clean carpeting, flooring and fresh fabrics get noticed and dirty ones get noticed even more. A clean environment sends a strong, positive message to everyone who visits your business.
We understand the importance of keeping your business running, interruption-free. That's why we are available to clean your carpet, tile, upholstery and air ducts; after hours or on weekends.  Let us help with our full range of cleaning services, convenient scheduling, competitive pricing, vast experience and proven results with state-of-the-art cleaning.
Call or email our Commercial Cleaning Team directly for a
no-obligation evaluation of your cleaning needs.
248-291-2114  |  commercialcleaning@originalhagopian.com