Our founder, Haroutun (Harry) Hagopian was born in 1895 in Bursa, Turkey during a very difficult period in history. The minority Armenian population in Turkey (at the time known as the Ottoman Empire) was pushing for equal rights and coming under attack. The Ottoman Empire, already crumbling, started what would become the first genocide of the 20th century killing 1.5 million Armenians. Haroutun was one of the survivors along with his wife, Cariana, but she lost her entire family. As an adult, Harry moved to Istanbul to become a pharmacist and soon after was conscripted by the Turkish Army to serve in the medical corps during World War I. Since all Armenians in the military were scheduled for execution after the war, Hagopian went AWOL and escaped to America in 1921.

Arriving in the United States penniless, friendless, and not knowing any English, Harry worked as a dishwasher in a Chinese restaurant in New York. However, it was the lure of working at the Ford plant for five dollars a day that eventually brought him to Detroit to stay. He worked hard and six years later had saved enough money to bring Cariana and their first child, Mary, to America. During their forced separation Cariana had been a nanny to a wealthy Turkish family, but circumstances required her to place Mary in an orphanage at the age of four.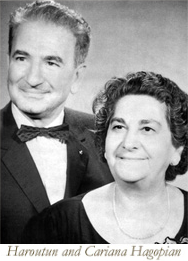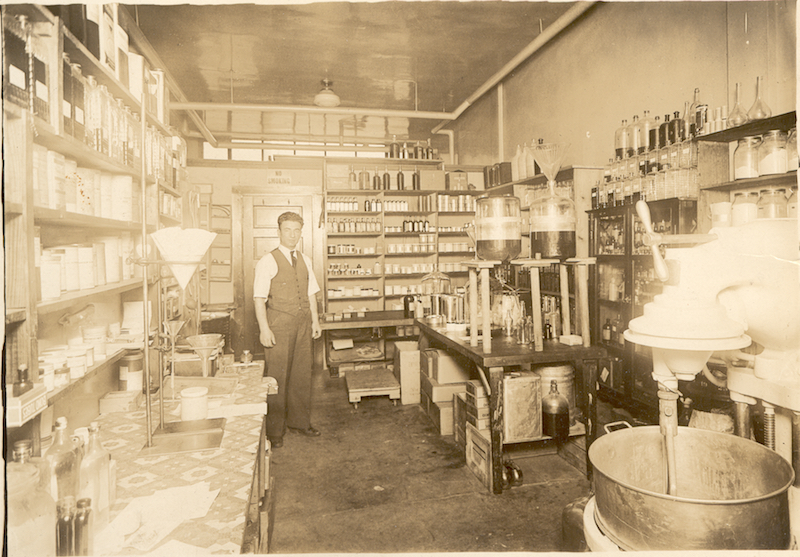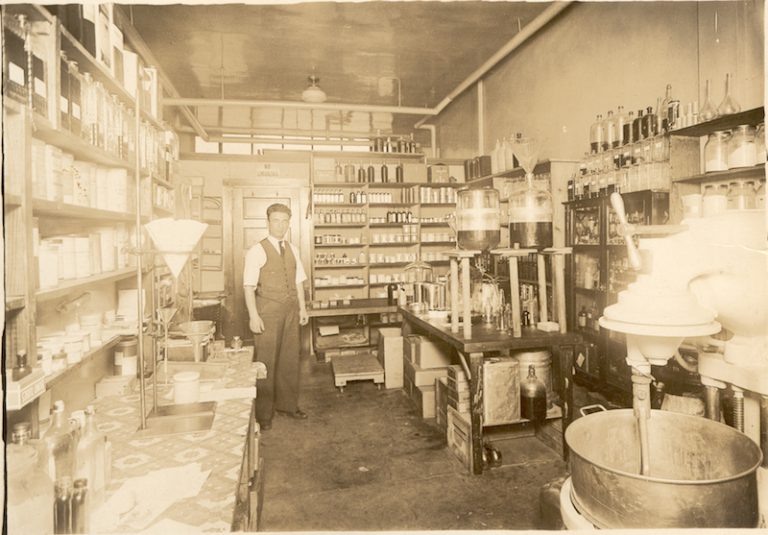 While Harry was working at Ford, he was also manufacturing perfumes in his basement laboratory and selling them to female office workers to supplement his income. Soon, he established the Cariana Perfume Manufacturing Company, named after his wife. He developed and expanded the business to include a full line of beauty shop preparations including hair dye and cosmetic products. He was particularly proud of being able to identify each one of his hundreds of essential oils by their distinctive fragrances.

Harry Hagopian's five children were brought up working in the family business. Even at a young age they would put labels on bottles and seal packages at the perfume factory when they weren't in school. In the late 1920s, just before the Great Depression, Hagopian opened his first professional laboratory on the corner of Cass Avenue & Bagley Street in downtown Detroit. He was a man of many interests and a highly creative individual. He developed several patents, was fluent in four languages, and was always looking for new challenges.
In the early 1930s he started another business, The LaSalle Chemical Products Company, manufacturing industrial cleaning compounds. He developed a metal cleaner and polish called Utillo, which was used to polish automobile chrome and the brass fixtures in most of the high-rise buildings in downtown Detroit. The laboratory was later moved to a large building behind Hagopian's residence on San Juan Street in Detroit where again several of the Hagopian children worked. These early experiences working in Harry's lab led to all three sons studying chemistry in school.
It was in 1938 when Hagopian received a call that changed his life. One of his customers had an ink stain on his carpet and asked him if he could remove it. Never one to avoid a challenge, he said that he would find a way. Recognizing the similarity between carpet fibers and human hair, and with his extensive knowledge of chemicals, he was in his element and up to the challenge. He quickly realized the potential of this new opportunity and he began removing stains from carpet on a referral basis. Carrying a black leather doctor's bag filled with chemicals and dyes he was a one-man rug doctor. Hagopian immediately became a success and, as a result, he gradually phased out of his other two businesses.

During World War II new carpet production ceased, so once again Hagopian saw an opportunity. He developed the first procedure in America for topical dyeing of wall-to-wall carpeting. The Carpet Dyeing Service Company was soon servicing every major retail store in Detroit. The entrepreneur also developed a permanent black dye that was used extensively for window display carpeting. Before long, most rug and carpet cleaning companies in Detroit referred their customers to him for stain removal and carpet and rug dyeing.

Hagopian was particularly proud of two large, difficult jobs. The Star Carpet Cleaning Company had scorched over 300 rugs in its dry room. He restored every one and saved the company thousands of dollars. The other job involved the removal of a 250-foot long water stain on the brand new Puerto Rican hand-hooked carpet at the new General Motors Technical Center, which their scientists had unsuccessfully attempted to clean.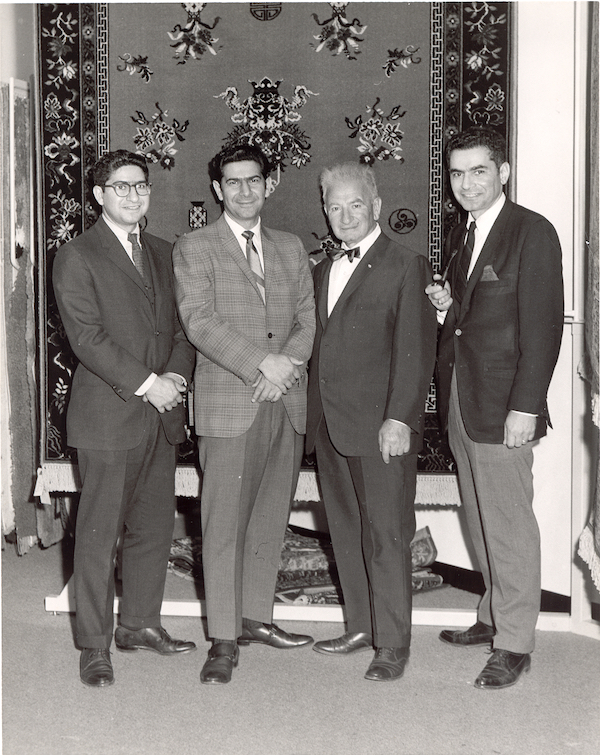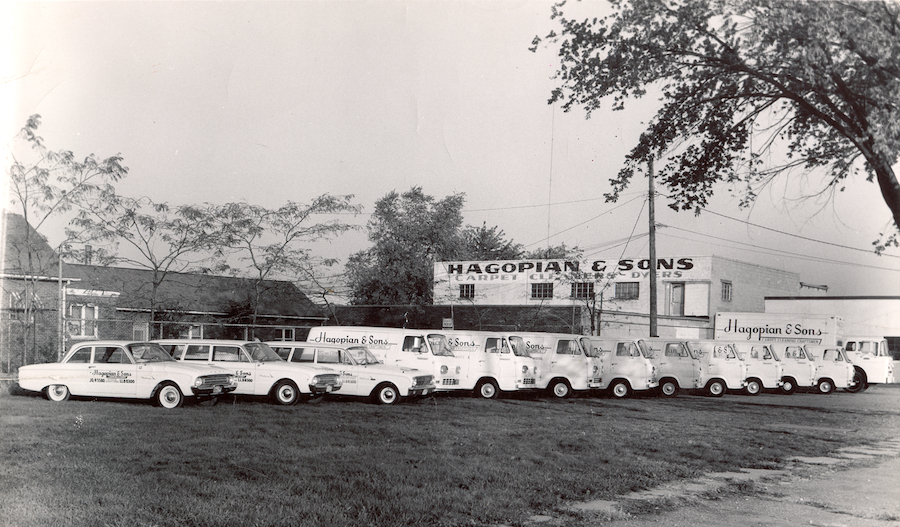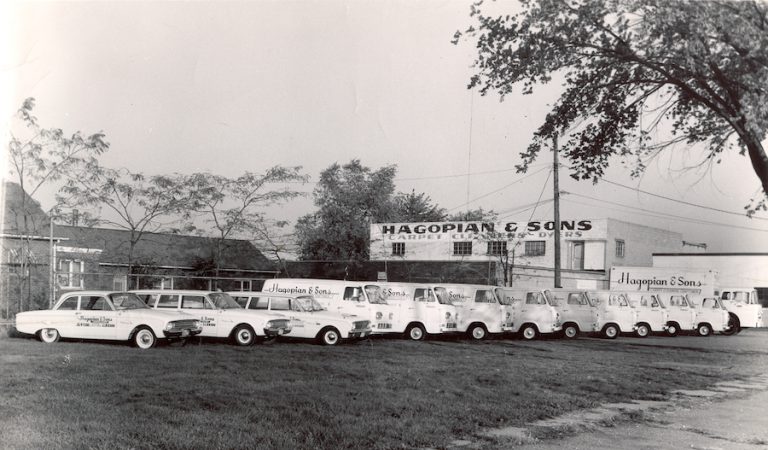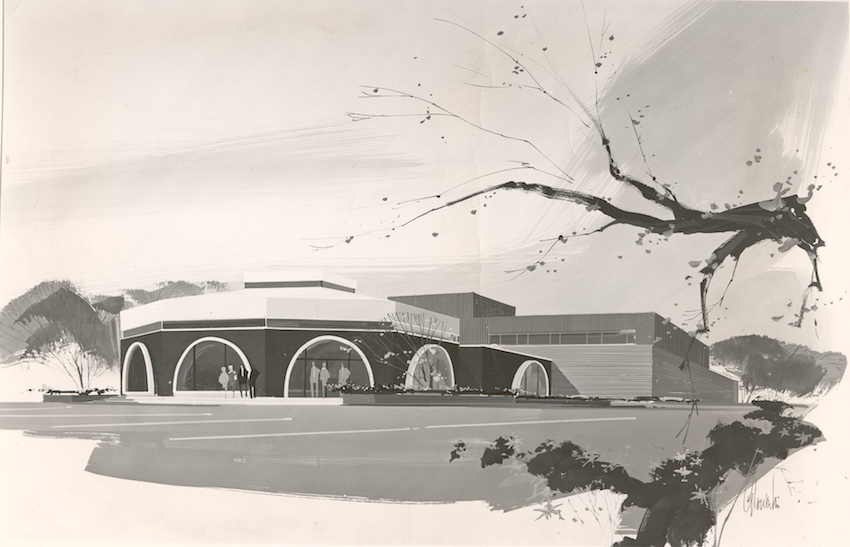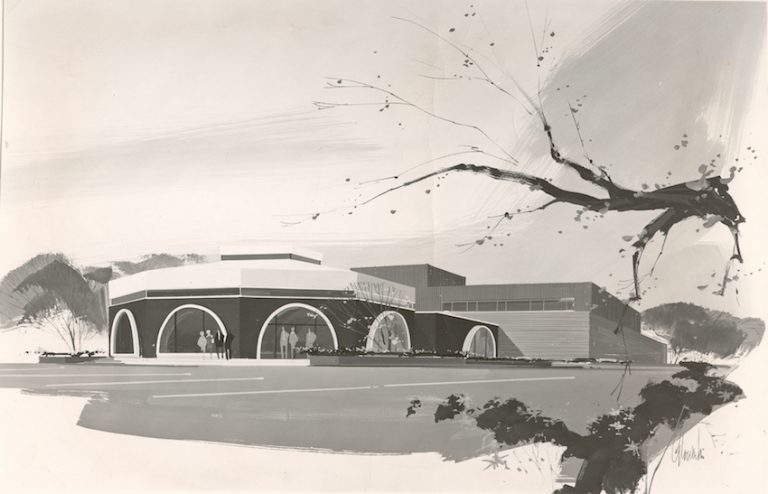 In the 1940s the name Carpet Dyeing Service Company was changed to Hagopian & Sons, Inc. Later, in 1948, Hagopian moved to a larger location at 15180 West 8 Mile Road in Oak Park. In the early 1950s, sons Stephen, Edgar, and Arthur became involved in the business full-time along with Hagopian's daughter, Ilene. In the mid 1950s Hagopian added its first automatic rug cleaning machine and the first cleaning crews that went directly to the customer. The on-location carpet cleaning business was in its infancy and most carpet cleaners used coconut oil shampoos that left a sticky residue, which accelerated re-soiling. Hagopian cleverly developed proprietary, non-residue cleaning agents. His customer base was the "Who's Who" of Detroit society and his company is the only carpet and rug cleaner ever listed in the Blue Book , the prestigious social secretary.

The company grew rapidly during the 15-year period between 1953 and 1968. Hagopian & Sons became the largest carpet and rug cleaner in the metropolitan Detroit area. The trademark "Hagopian Genie" is still used today. Bob Talbert of the Detroit Free Press, listed Hagopian's tag line " It takes a Genie Us ", as one of the "Best".

In the late 1950's customers were seeking advice from Hagopian on the cleaning of synthetic carpet fibers. Recognizing an opportunity Hagopian formally added broadloom carpet sales as well as oriental and contemporary rugs to their offerings and changed the way they would do business forever.
In 1969 Hagopian moved the business into a multi-million dollar 52,000-square-foot retail showroom and state-of-the-art rug cleaning facility at 14000 West 8 Mile Road in Oak Park. It was the first and only fully automated rug cleaning plant in Michigan. The December 1969 issue of the National Institute of Rug Cleaning trade magazine touted the facility as an "industry Christmas present." The first international rug cleaning convention held in Detroit was convened at the new building. By that time, Hagopian employed fifty people.
In 1976 Stephen and Edgar split over operational differences. Hagopian's other son, Arthur, had left the firm some five years earlier. Edgar bought out both brothers and renamed the business "The Original Hagopian," since both had started their own carpet cleaning businesses. To avoid further confusion Edgar, who had served as general manager of the business since 1953, established purple as the corporate color, and had all the vehicles painted that color.

Haroutun Hagopian: genocide survivor, pharmacist, perfumer, manufacturing chemist, inventor, entrepreneur, philanthropist, political activist, rug doctor, 32nd degree Mason and Moslem Temple Shriner—a true "renaissance man"—but most of all, a patriotic American, died February 10, 1978. He was grateful for the opportunities that America gave him and his family and instilled a strong sense of patriotism in his children. All three of his sons served in the military, two in the Army and one in the Marines. He grew his business from the ground up and saw his American dream come true.

It was around this same time that Edgar's son, Edmond, started doing odd jobs at the company. Working at the facility after school and on weekends, Edmond started cleaning carpets after he graduated from high school. However, after a few years, he decided it was time to go to college. "I went to school not knowing if I was going to come back and work in the family business" says Edmond. "As college graduation got closer, I thought seriously about what I was going to do. I realized I had a great opportunity waiting for me. And, I also really wanted to work with my family."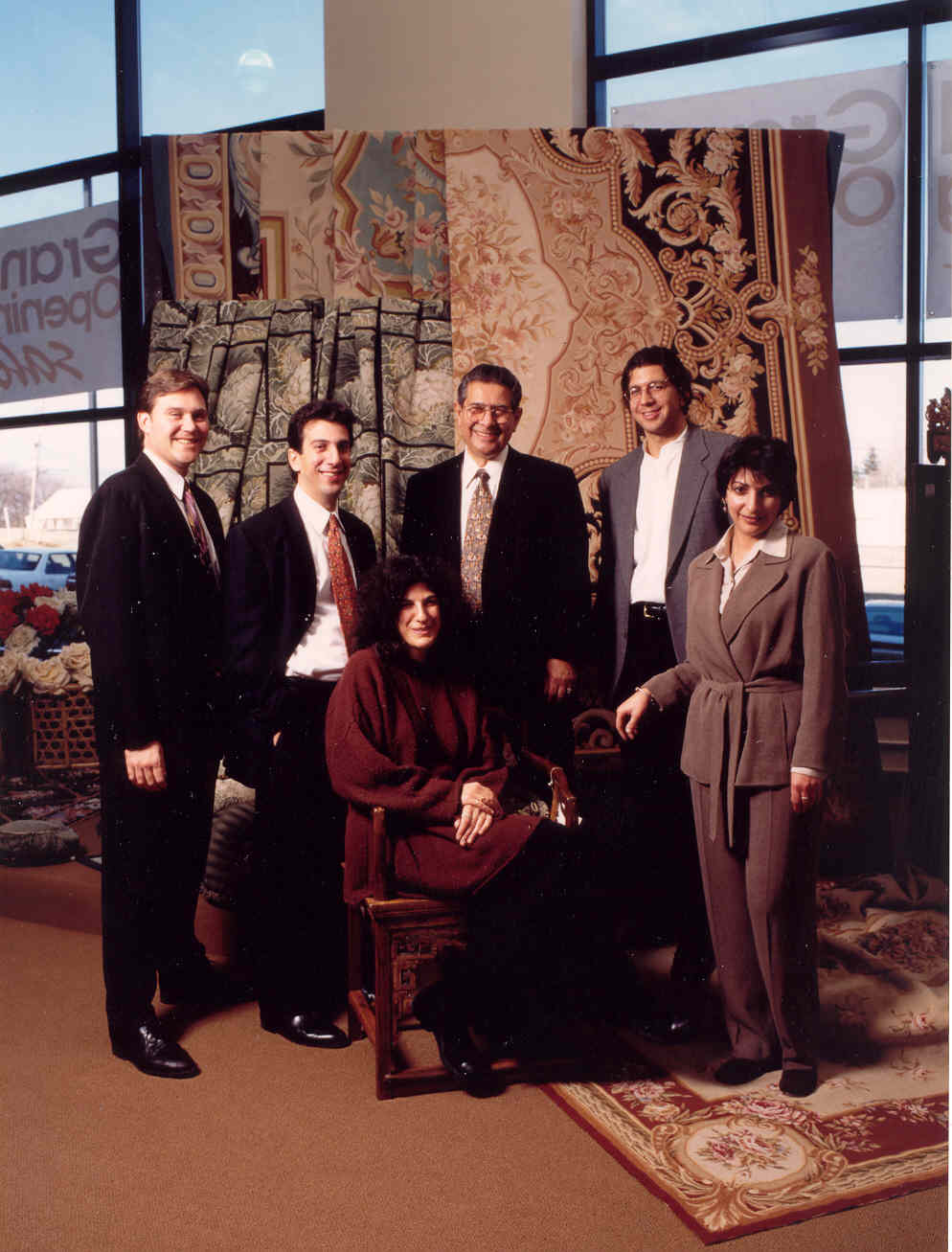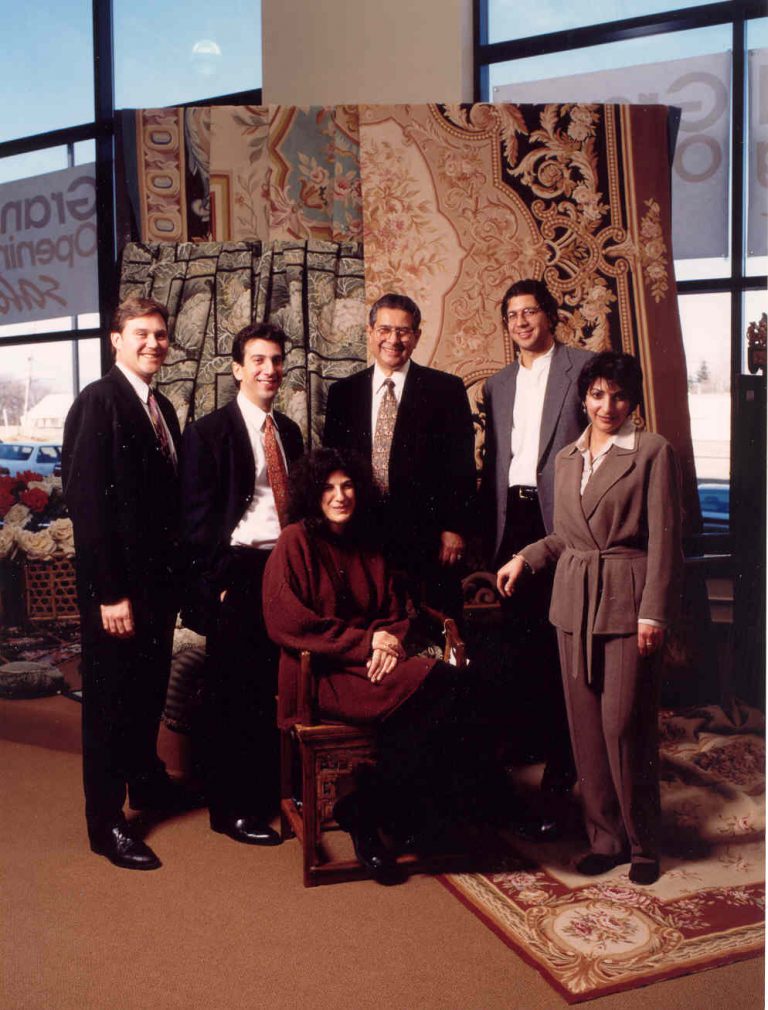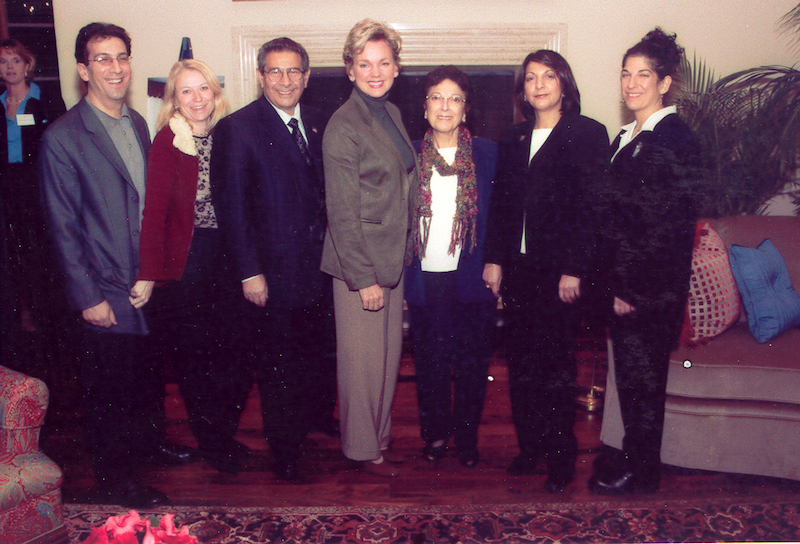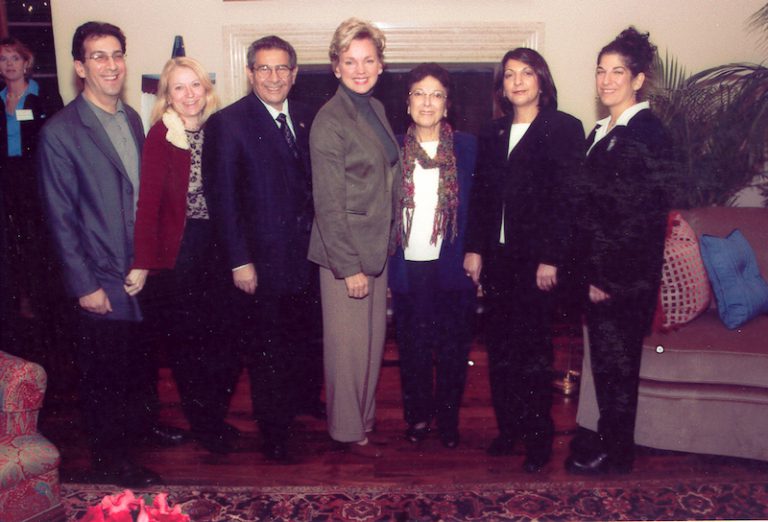 In 1987 and 1988 Edgar expanded rapidly, opening showrooms in Ann Arbor and Birmingham. At the grand opening of the Birmingham showroom on Woodward Avenue, Edgar sponsored an exhibition at the Detroit Institute of Arts in collaboration with the Textile Museum in Washington D.C. This exhibit of rare, antique rugs from the Safavid & Qajar dynasties of Iran was one of the first rug exhibits in the Detroit area, reflecting Edgar's commitment to education in the community.

In 1989 the company donated Michigan's first computerized fabric loom to the College for Creative Studies (CCS), as well as twenty personal computers for its design school. In addition, the firm started one of its most successful and long-standing collaborations with CCS—an annual rug design competition with scholarships to the top three winners. As an added bonus, the rug designed by the first place winner is produced and put on display during the annual student exhibition. Subsequently, the company began an annual statewide student design competition in collaboration with the American Society of Interior Design, which continues to this day.
In 1993 the business moved its Birmingham showroom to its present larger location, a 10,000 square foot space, about a half mile north at 850 S. Old Woodward. The grand opening event was also a fundraiser for the Detroit Institute of Arts. Since 1993 the business has hosted six Nightnotes chamber music concerts annually at its Birmingham showroom with attendance averaging 100 people. All proceeds support the chamber music group.
It was in 1996 that Edmond took the reigns of Hagopian World of rugs as president; Edgar became chairman of the board. Edgar's daughter, Suzanne is executive vice president "Suzanne has really had to prove herself," says Edgar. "She is one of the few women in the nation in this industry and is nationally recognized as an expert in the field of design and color." Edgar's youngest daughter, Angela, joined Hagopian in 1981 and now serves as the vice president of operations. Son-in-law, Kenneth Snow, is president of Hagopian Cleaning Services and has also served as president on the National Board of Carpet Cleaners.

In 1998 Edmond, Suzanne, Angela, and Ken built a new 30,000-square-foot showroom in Novi on 12 Mile Road on the perimeter of Twelve Oaks Mall. This showroom was recognized by the Oriental Rug Retailers Association and helped the company win the prestigious National Oriental Rug Retailer of the Year award in 1998.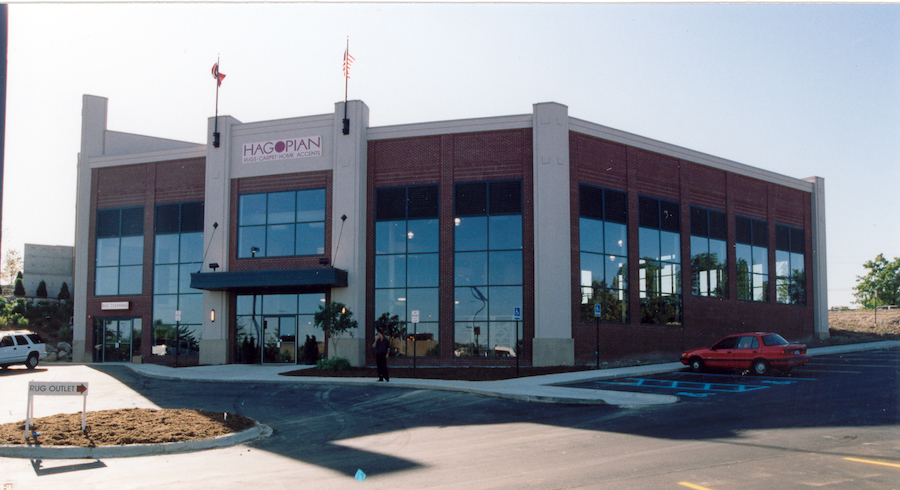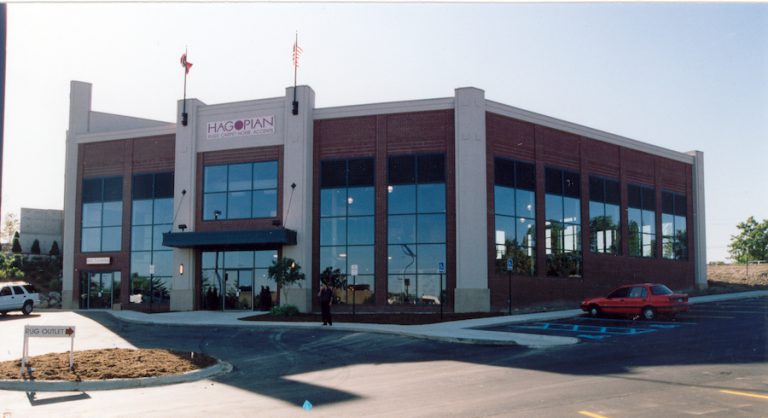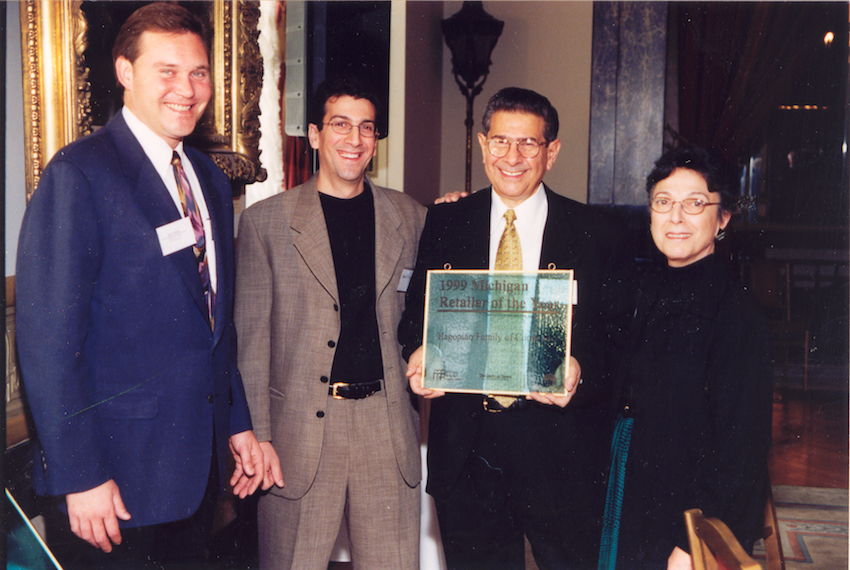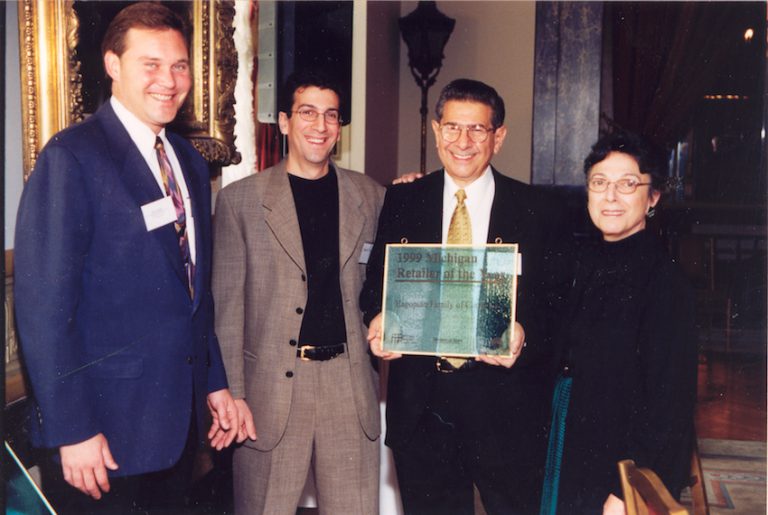 "I think it's our dedication to quality service that has made us successful over the years," says Edgar Hagopian. "We have many long-term employees, and that is unusual within our industry. Our emphasis has always been integrity. The main reason we've done well is because we've always stayed true to the motto: 'the customer is always right,'" adds Edmond. "I believe that a complaint is an opportunity to improve."

The Hagopians also credit Harry's incredible knowledge of chemicals with the company's longevity. We have a lot of credibility in this field. Nobody had the technical expertise and background in this industry that my father did," Edgar says.

Hagopian World of Rugs and Hagopian Cleaning Services are respected throughout Michigan. The business has received countless awards and citations over the years, coming from civic leaders, industry peers, media outlets, and other organizations.

Edgar Hagopian has been named "Man of the Year" by the Oak Park Business & Education Alliance and the Canadian Armenian Business Council. He has also received the Family Leadership Award from Power Brokers International. In 2002 he was inducted into the International Institute's Heritage Hall of Fame, which honors outstanding individuals who build their families, businesses, and careers while supporting and promoting cultural diversity. Edgar Hagopian's most recent achievement is his Ellis Island Medal of Honor which acknowledges the achievements of outstanding U.S. citizens.

In addition, the company has been honored as: a Major Benefactor to the Detroit Institute of Arts an Honorary Board Member, Detroit Institute of Arts (Edgar Hagopian), and received the 1995 Franklin Bank Award "Best Family Owned Business (150+ employees)."
Whether it's cleaning a carpet or educating someone about the floor covering that fits their lifestyle, the Hagopian family has always maintained the highest level of customer service. As an upstanding corporate citizen, the Hagopian World of Rugs and Cleaning Services has continued to give back to the community in new and interesting ways. This third generation business has remained true to its roots—and would, no doubt, make Haroutun "Harry" Hagopian very proud.